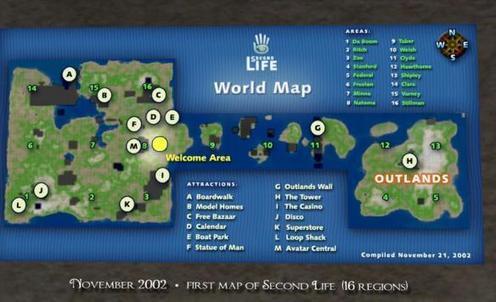 With over 20,000 regions currently active on the grid, it is sometimes hard to picture just how big Second Life is, much less under how all the various component parts – continents, famous regional groups, places like the Blake Sea and Bay City – look and fit together. Harder still is to picture exactly how SL grew over the years.
So, if you do have an interest in the physical growth and development of Second Life, or are curious about SL cartography, Maps of Second Life is well worth a visit.
Brought together and curated by Juliana Lethdetter, the exhibition features maps charting the history of Second Life from 2002 onwards, and features maps supplied by groups such as the Historical Society of Second Life, the SL Coast Guard, and individuals such as Carl Metropolitan and Marianne McCann.

See on modemworld.wordpress.com